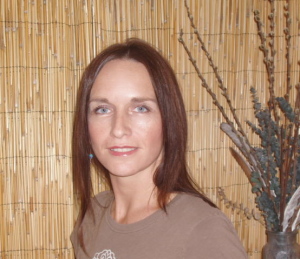 Credentials: Licensed since 2002, Nationally Board Certified since 2003, Certified Neuromuscular Therapist since 2006, Certified Advanced Hawaiian Lomi Lomi Practitioner since 2004, American Massage Therapy Association Member since 2002, CPR/First Aid Certified 2002, 2004, 2008. (See Credentials drop-down menus to view certificates).
Background: Sharon Cedrone was born with a natural "knack" and an innate talent for healing through bodywork. As a child, she was frequently called upon by family members to play the role of Kahuna (healer). However, she did not discover her love and natural gift for the art of massage until the summer of 2000, while helping a carpenter with his frequent occupation-related tension. He stated that he had been receiving massages on a weekly basis for three years and had tried five different therapists over the years. Sharon offered to massage him to the best of her ability, and he remarked that her "amateur" massage was "just as good, if not better" than the professional ones he had received! He therefore encouraged her to pursue a career as a professional licensed massage therapist. She decided to take his advice and enrolled in massage school that very same year. To this day, she credits him for helping her find her true calling!
Training: During her two-year enrollment at The Muscular Therapy Institute in Cambridge, MA, Sharon completed 900 hours of base training and graduated in June 2002. Eager to improve her craft, she began taking Continuing Education classes immediately after graduation, and currently has 393 CE hours. Combined with her base training, Sharon now has over 1,293 hours of training, and continues to accrue an additional 12 hours per year.
Experience: Sharon began her student practice in 2000 and in 2001 began working in the student clinic at MTI. She began her professional career on Nantucket Island (summer 2002 and 2003) and worked on Newbury Street in Boston at Giuliano Day Spa (now G20 Spa + Salon: http://www.g2ospasalon.com) during the winter months. In fall 2003, she worked at Whole Person Health in Stoughton, MA prior to relocating to Palm Beach County, Florida in January 2004.
Specialty: "First do no harm" was the decree of MTI, her alma mater. Sharon's specialty is the "best of both worlds" massage – one that is relaxing and enjoyable as well as therapeutic. She firmly believes it is possible for her clients to relax and enjoy their massage while she addresses "what ails you." She specializes in delivering pain free deep tissue massage. She works in what is known in Sports Massage as the OTZ (optimal therapy zone), which is flush up against the pain threshold at times, but doesn't cross that line. In her opinion, her clients should not experience more than what she would consider momentary "mild discomfort" during their massage. She does not adhere to the "no pain no gain" paradigm nor does she subscribe to the belief that it is normal for clients to be sore for days after a therapeutic massage. In fact, she holds the opinion that deep tissue massage doesn't have to hurt, and if it does, your therapist is probably not doing it right. In 2008, Sharon began working with car accident victims – those involved in motor vehicle accidents. She feels that these individuals have already been through enough pain, and she seeks to bring them the much-needed relief that may have been missing from their treatment plan.