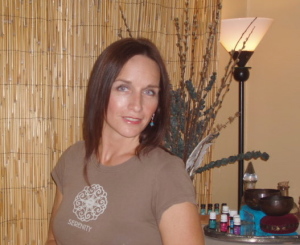 Sharon practices a variety of massage modalities (styles) and tailors your massage to suit your specific goals and preferences. She does not perform "cookie cutter" massage routines from a "spa menu" but rather draws from the vast body of knowledge and expertise she possesses in each modality to design a custom massage session just for you. She welcomes your feedback on pressure, techniques, and anything else you feel will enhance the therapeutic value of your massage experience!
Sharon's primary modalities include: Swedish Massage, Deep Tissue Massage, Sports Massage, Neuromuscular Therapy (NMT), Hawaiian Lomi-Lomi Massage,  and Muscular Therapy (The Benjamin Institute). See Sub-Menus under Your Massage, Massage Styles, for information on each individual modalities.
Additional Styles: Sharon also practices prenatal massage (with The Body Cushion™), Craniosacral Therapy, Graston Technique, and Hot Stone massage. Her training also includes Myofascial Release, Shiatsu, Reflexology, and Equine massage. In addition, she received Reiki Level I & II Attunements in 2004.