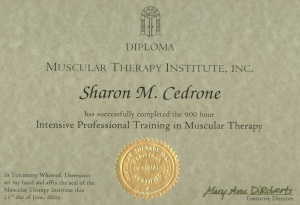 Choosing the right massage therapist is critical to maximizing the benefits of the massage advises Sharon Cedrone 561-371-0047. Call Massage Therapist Sharon Cedrone today and she will come to you.
NORTH PALM BEACH, FL – Oct. 7, 2010 — Massage North Palm Beach licensed massage therapist Sharon Cedrone suggests that whether you have a specific therapeutic need or if you want a massage for general good health, it is good to have an idea of what you are trying to accomplish. Some of the common problems that bring patients to massage therapists include pain, stress, insomnia, tension and depression.
Deciding that you need a massage therapist is the easy part; choosing one is often more difficult. Here are a few things to keep in mind:
Because massage is so personal and indiviudalized, investing the time to find a good match between client and massage therapist will greatly enhance your experience.
Ask a friend — If you have a friend who sees a massage therapist don't be shy and ask them for a reference.
Credentials are important — Make sure that the massage therapist is properly licensed! Ask the massage therapist how long they've been practicing, where they were schooled, how many hours of training they completed and if they've had any advanced training in specific massage techniques.
Inquire about their facilities — You may prefer to be seen in an office setting rather than in your home, and most massage therapists will come to either your home or your office.
Review the fees and length of service — Typically a massage will last between 60 minutes and 90 minutes. It is a good idea to ask how long the massage therapist thinks you will need based on your concerns and whether they allow extra time at the end of your session for rebooking and discussion, if necessary.
Speak with the massage therapist prior to making an appointment — A good massage therapist will be willing to discuss your expectations and what style of massage will work best to relieve your symptoms. That's why it's best to book by phone vs. text. If you want an appointment soon, email may not be the best method either.
You should discuss any personal preferences with your massage therapist — A good massage therapist will be accommodating to your needs, if they're not, you can always find a massage therapist who will.
Sharon Cedrone is a Florida licensed provider of physical medicine — specifically in the area of therapeutic, medical, and relaxation massage.
If you want the best, Call 561-371-0047 to schedule a massage in or around North Palm Beach Florida with Sharon Cedrone or to learn more about Sharon Cedrone and her therapeutic massage expertise and credentials.